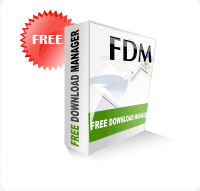 Free Download Manager là tiện ích download hoàn toàn miễn phí, giúp bạn tăng tốc download bằng cách chia nhỏ file download thành nhiều phần và download đồng thời các phần đó. Nó có thể tăng tốc download lên tới 600%!
Ngoài ra, bạn có thể download tiếp khi lần download trước bị ngắt đoạn. Free Download Manager còn hỗ trợ download rất tốt các video trên các trang web chia sẻ video trực tuyến nổi tiếng như Youtube, Google Video, … file video có thể save với định dạng FLV hoặc chuyển đổi qua các định dạng video phổ biến khác.
Free Download Manager còn giúp bạn chia sẻ file download với những người khác và hỗ trợ nhiều định dạng HTTP, HTTPS, FTP và cả Bittorrent nữa.
Một điểm khá tuyệt vời ở chương trình này là nó có hỗ trợ tiếng Việt!
————————————–
What is Free Download Manager? It is a powerful, easy-to-use and absolutely free download accelerator and manager. Moreover, FDM is 100% safe, open-source software distributed under GPL license.
Increase your download speed and resume broken downloads
FDM accelerates downloads by splitting files into sections and then downloading them simultaneously. As a result download speed increases up to 600%, or even more! FDM can also resume broken downloads so you needn`t start downloading from the beginning after casual interruption.
Flash video download new
Download video from video sites, such as Youtube, Google Video, etc. The video can then be saved in native .flv format or converted to one of more popular video formats.
Enjoy easy file sharing new
A built-in Upload Manager lets you upload your files easily to share them with other people. Upload manager can be easily integrated with your system (Windows Explorer, Internet Explorer, Outlook Express).
HTTP/FTP/BitTorrent support new
FDM lets you download files and whole web sites from any remote server via HTTP, HTTPS and
[You must be registered and logged in to see this link.]
You can also download files using BitTorrent protocol.
GNU General Public License new
Free download manager is now open source software released under GNU GPL.
Enjoy safer and more rewarding downloading
You can read what other community members say about the file you are going to download, and also leave your own opinion about the file you downloaded. In this way FDM users are always warned against useless or malicious files.
More
In addition, Free Download Manager allows you to: adjust traffic usage; to organize and schedule downloads; download video from video sites; download whole web sites with HTML Spider; operate the program remotely, via the internet, and more!
Supported languages:
Macedonian, Serbian, Albanian, Croatian, Korean, Arabic, Brazilian Portuguese, Bulgarian, Chinese Traditional, Chinese, Czech, German, Dutch, French, Hebrew, Hungarian, Italian, Polish, Portuguese-Brazil, Romanian, Russian, Slovak, Spanish, Swedish, Turkish, Uzbek, Greek, Vietnamese, Slovenian.
Download :
[You must be registered and logged in to see this link.]